MMG Insurance, with the support of its employees, business partners and the local community is thrilled to announce the donation of $29,159 to the local United Way. The money was raised through the 24th Annual MMG Charity Golf Tournament and the 1st Annual MMG Charity Golf Ball Drop, both of which were held earlier this month.
MMG has been privileged to spearhead the Charity Golf Tournament for 24 years and in that time, has raised over $495,000 for the United Way. Again this year, the United Way will distribute these funds to local agencies, directly benefiting the people of Aroostook County.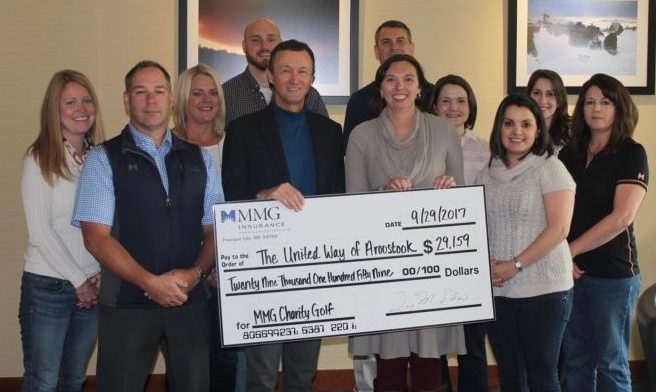 Larry Shaw, President and CEO, says "MMG is proud to contribute to the important mission of the United Way of Aroostook. We're big believers in being part of our community and our employees are always so excited to get involved in this effort and that's a big part of why it's so successful."  Shaw adds, "Along with our employees, we are thankful for the involvement and support of the community and our business partners near and far."
Of the donation, Executive Director of the United Way of Aroostook, Sherry Locke says, "it's so great to receive this donation from MMG. It just shows the partnership that the United Way of Aroostook and MMG Insurance continue to have with both organizations really working to build a stronger community."
Next year will mark the 25th Annual MMG Charity Golf Tournament and planning is already underway to mark this exciting milestone.