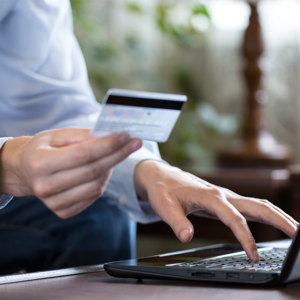 There are several Billing and Payment Options including Mortgagee Billed (Escrow) and Electronic Funds Transfer (EFT).
Direct Bill Options
Quarterly Payment Schedule. The annual premium is divided into four (4) easy installments. We offer a true quarterly payment plan. A 25% deposit is required with new submissions. Subsequent due dates will be assigned in three (3) month intervals based on the policy effective date. A $6 processing fee is added to each individual payment received. With the quarterly payment option, you can pay the minimum amount due, the entire balance, or any amount in between.
Semi-annual Payments. We do not offer this option as an individual billing method but if you want to pay semi-annual payments just choose the Quarterly Payment Schedule. Then just pay the total of the first two (2) quarters. You will not receive another bill until the third quarter. At that time you may choose to pay just the third quarter or pay the bill in full. As a $6 processing fee is attached to each individual payment. You will save $12 using this method of payment.
Annual Payment. Select "Annual Bill" and pay the total annual premium. Make one payment, with no processing fees.
9-Pay, the Monthly Payment Plan. 9-Pay is available for any single annual policy or combination of annual policies. 20% of the estimated annual premium is required for a down payment. The remaining 80% of the premium is divided into eight (8) equal payments. Due dates will be one (1) month apart. This payment method is especially helpful as the minimum amount due is reduced into smaller increments. With each installment a $6 processing fee is attached. You may pay more than the minimum amount due.    * 9-Pay is not available in all states.
Mortgagee Billed (Escrow). If you have set up mortgage payments to include insurance premium, we can bill your Mortgagee directly. Advantages include no processing fees or a separate Homeowners insurance bill(s) to pay.
Payment by Credit Card
Payment by Credit Card. For maximum convenience, we accept VISA and MasterCard for your online or phone credit card payments.
Click here to pay your bill with your credit card online and follow the easy instructions to register your account. It's simple, secure and you can pay anytime, day or night, as well as view your insurance documents and claims.
If you prefer to pay your bill with your credit card by phone, please call 1.888.MMGBILL (1.888.664.2455) during our regular business hours (8:00 am to 4:30 pm Eastern Monday through Friday). One of our Customer Service Representatives would be glad to assist you.
The "Freedom Plan" Electronic Funds Transfer (EFT)
The "Freedom Plan". Electronic Funds Transfer (EFT) automatically deducts your insurance premiums from your bank account each month, saving you time and money. There are no fees and premiums are spread out monthly, distributing payments evenly throughout the year. No more worries that insurance premiums are not current when leaving for vacation, or just have more important things to do! As long as you have a checking or savings account, are a customer in good standing and wish to pay your premiums monthly, you are eligible to enroll in this program.
How to Enroll: Contact your local Independent Insurance Agent and ask about MMG's "Freedom Plan". If you currently have an MMG policy in our direct bill program, EFT can be selected during the current term or at the next renewal of your policy. Just print a copy of the EFT Authorization Agreement. Mail the completed form and a VOIDED check (if you are using a checking account) to MMG Insurance Company, PO Box 729, Presque Isle, ME 04769.
Notifications:
A Withdrawal Notification will be mailed confirming the amount and date of future withdrawals.
A change to your policy during the annual term will generate another notice informing you of the change in your monthly withdrawal.
Upon renewal, updated policy(ies) and future withdrawal information will be automatically provided for you.