Recognizing the statewide reach of Northern Light Acadia Hospital, MMG Insurance has committed $25,000 to the Acadia For All campaign. MMG's gift will provide patient assistance funds for Aroostook County residents receiving treatment from Acadia Hospital and aid in the construction of a new 50 bed pediatric inpatient wing at the hospital.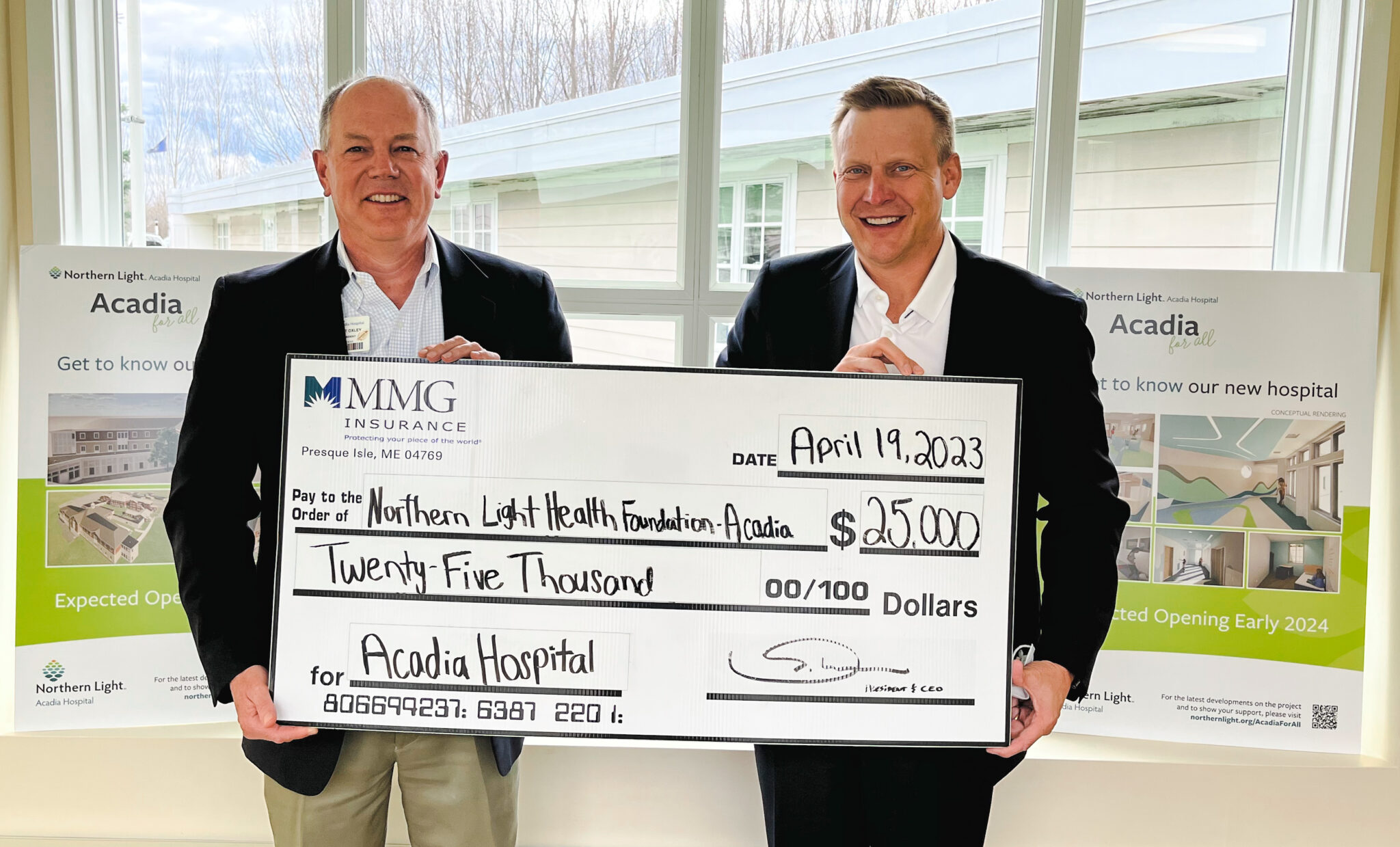 "We appreciate MMG's commitment to the health and wellness of Aroostook County and for their recognition of the critical, statewide role that Acadia Hospital plays in behavioral health," says Scott Oxley, MBA, president of Northern Light Acadia Hospital. "Many people do not realize that even though Aroostook County only accounts for 4.8% of Maine's residents, 10% of our inpatient population comes from The County."
Unfortunately, limited psychiatric beds in the state mean that Aroostook County patients wait an average of 52 hours before being admitted. At a time when every hour counts, extended wait times create additional challenges for patients. MMG Insurance chose to support the Acadia For All campaign to help ease some of those challenges.
"As a large employer in Aroostook County, we want to make sure our employees and their families, as well as all our friends and neighbors in the region, can obtain the care they need when they need it," says Matt McHatten, president and CEO of MMG Insurance. "Acadia Hospital is an important resource for County residents seeking behavioral healthcare, both for inpatient care in Bangor and for the local services the Acadia team brings to our area."
Between October 2021 and November 2022, 8.1% of County residents received some form of outpatient behavioral health treatment. Tele-video is one tool Acadia Hospital uses to keep patient care close to home.
The hospital also collaborates with Aroostook Mental Health Services to address local behavioral health crisis needs and with other County organizations to provide psychological first aid training for staff to respond to youth in crisis. More than 40 schools and youth-oriented community groups across The County participate in the Acadia CARES program to address behavioral health needs for children and adolescents.
Acadia Hospital's patient assistance fund provides transportation assistance, winter apparel, food bags, Hannaford gift cards, and personal care items to behavioral health patients in need. MMG Insurance earmarked $10,000 of its donation to this fund specifically for Aroostook patients receiving services from the hospital.
All these services are in addition to the ongoing emergency department and inpatient consultations Acadia Hospital provides at Northern Light AR Gould Hospital and Houlton Regional Hospital.
"Working alongside Acadia's team is essential in providing specialty behavioral healthcare to our community," says Sarah Ellsworth, PMHNP of Northern Light AR Gould Hospital. "With the pandemic came a remarkable increase in the number of people who choose to access care for behavioral health. AR Gould and Acadia are working hard to create a system that streamlines this process and reduces the burden that accessing care can sometimes create."