As we pull out our sweaters and the seasonal soundtrack switches to the crackling of woodstoves and fireplaces, it's important to keep chimney fire safety in mind.
The National Fire Protection Association reports that heating equipment is the second leading cause of house fires and the third leading cause of house fire deaths. The most predominant contributing factor to home heating fires is failure to clean heating equipment, primarily chimneys. From 2011-2015 there were 54,030 reported home fires involving heating equipment. Out of this number there were 480 civilian deaths, 1,470 civilian injuries and $1.1 billion in property damage.
You might be surprised to learn that the majority of chimney fires go undetected, therefore, it is important to have your chimney regularly inspected by a Chimney Safety Institute of America (CSIA) Certified Chimney Sweep. Chimney fires, even those that go unnoticed, can cause tiles to crack and mortar to displace which provides an avenue for flames to reach the wood frame of the home.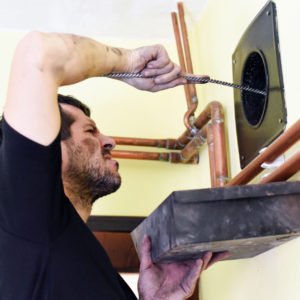 According to the CSIA the following are signs that you may have had a chimney fire:
"Puffy" or "honey combed" creosote
Warped metal of the damper, metal smoke chamber connector pipe or factory-built metal chimney
Cracked or collapsed flue tiles, or tiles with large chunks missing
Discolored and/or distorted rain cap
Heat-damaged TV antenna attached to the chimney
Creosote flakes and pieces found on the roof or ground
Roofing material damaged from hot creosote
Cracks in exterior masonry
Evidence of smoke escaping through mortar joints of masonry or tile liners
The best way to prevent chimney fires is with proper maintenance. Clean chimneys do not catch on fire so have your chimney cleaned at least once a year, if not more, depending on how often your wood stove or fireplace is used. When cleaning your chimney, the CSIA recommends the use of a CSIA Certified Chimney Sweep as they are frequently tested on the understanding of the intricacy of chimney and venting systems.
For more information on chimney fire safety or to find a CSIA Certified Professional in your area, visit http://www.csia.org/