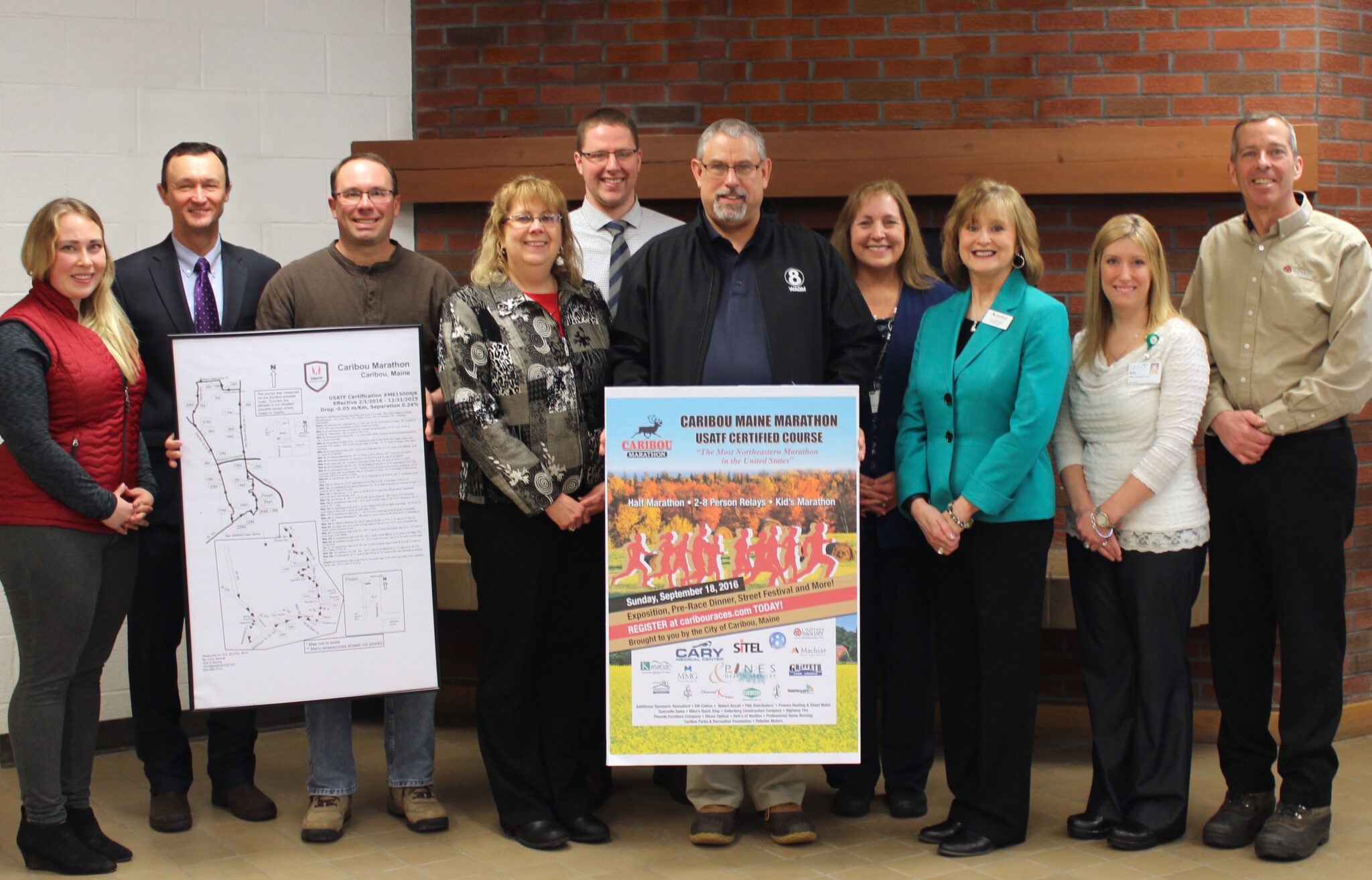 The Caribou Races, an event taking place September 18, 2016, will host a full marathon, a half marathon, relay races of each distance, and a kid's marathon.
The caribou race committee isn't surprised but is grateful for the supportive community members, says Lydia Kieffer, the City of Caribou's Event Coordinator. Kieffer says, "We are extremely lucky to live in a community that is so supportive. Event sponsorships are always a challenge to obtain, but we have had very positive responses so far and are getting closer every day to obtaining our goal." A group photo was taken Thursday, March 17th, of representatives of each the Platinum, Gold, Silver and Bronze sponsorship organizations. Represented organizations were Cary Medical Center, Pines Health Services, Sitel, United Insurance, Katahdin Trust Company, MMG Insurance, Machias Savings Banks, WAGMTV, and Griffeth Ford.
Currently, over 25 sponsors, of various levels, are already lined up for this fall's event, which will feature a street festival, pre-race exposition and pre-race dinner aside from the races. Major sponsor and Aroostook County supporter, Robbie Jalbert, with Sitel, shows community spirit in his enthusiastic involvement. "Sitel is dedicated to the success of Caribou", said Jalbert. "We are proud to be a sponsor of this amazing event. Not only does it promote healthy living, but it inspires people from all around to push themselves to achieve things that are beyond the norm. We are excited to see the economic impact this will have to our community, and the pride of the those who will get to participate."
The weekend event is aimed at raising money for the other festivities held in Caribou such as Winter Carnival and Thursdays on Sweden Street; a portion of the proceeds will also contribute to the efforts of the Caribou Parks & Recreation Foundation and to Camp Adventure, a summer camp for children aged 12-17 with Type 1 Diabetes.
Machias Savings Bank has also been a team player in every community they serve, and Aroostook County is no exception. The City of Caribou is thrilled to have their support and commitment to the Caribou Races. "Machias Savings is committed to the communities in which they serve. Sponsoring The Caribou Marathon helps us do that, plus at the same time helps us promote a healthy, active lifestyle," said Mike Kelley Sr., Executive Vice President of business banking. With many race distances available, everyone is encouraged to give it a try. There is a half marathon, relay races featuring varying distances and a kid's marathon. Relay races are great for team building activities and are a nice way to show your support as a company, group of friends or family.
MMG Insurance will support the inaugural Caribou Races as well this year. Showing his support, Larry Shaw, President & CEO said, "MMG is pleased to support this event that will welcome individuals from many different areas and give us the opportunity to showcase the natural beauty of Aroostook County. All of us at MMG commend the committee for doing such great work in making this happen".
The event will kick off Saturday, September 17th with a pre-race exposition and pre-race dinner. The expo and dinner are open to the public. The dinner will include items grown in Maine and unique to Northern Maine's heritage. Neal Griffeth, owner of Griffeth Ford, and major race sponsor, tells us that it's important to the event's success to have the public attend and welcome runners and their families and friends into the community on race weekend. Griffeth, says, "Aroostook County has the potential to benefit from the Caribou Races greatly; bringing events of this magnitude to Caribou will eventually help retain young families and grow our communities. A free street festival in the community will hopefully bring everyone out as will the community dinner before the race. We are happy to sponsor the Caribou Races and are looking forward to September."