MMG Insurance was recently named Corporate Partner of the Year by the Maine Campus Compact during the coalition's annual awards ceremony in Portland, ME.
As the recipient of the Corporate Partner of the Year Award, MMG Insurance received recognition for its partnerships with UMPI, including the establishment last year of the MMG Center for Professional Development, located in UMPI's Kelley Commons, as well as its collaboration with the University on the leadership development short course, the Young Professionals Institute. The MMG Center for Professional Development opened in Fall 2016 as an innovative space for furthering education for Aroostook County business leaders through professional development courses.
For the past 10 years, MMG and UMPI have also collaborated to host the annual Young Professionals Institute, a program designed to engage young business professionals through a seven-week short course. The course helps professionals refine skills that can contribute to greater productivity in the workplace and long-term career success. Since the inception of YPI, MMG has supported the program by planning and executing courses as well as providing financial support.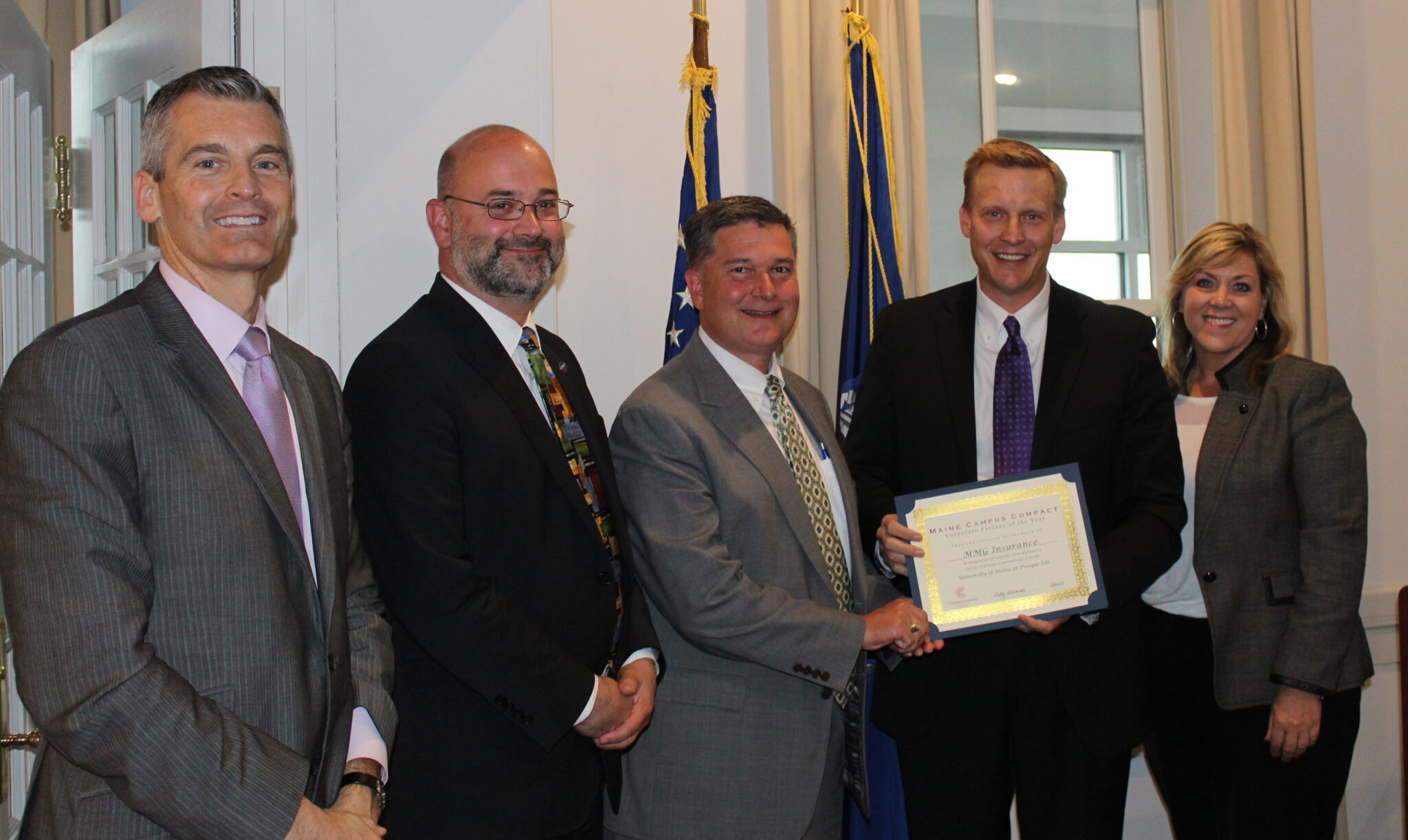 "We are humbled and honored to receive this award," Matt McHatten, MMG's Chief Operating Officer said in accepting the accolade. "We see partnerships with our State's higher educational institutions as imperative in dealing with workforce challenges of the future."
McHatten continued, "Together we have the opportunity to explore innovative and unique opportunities to empower students and support their passion for community involvement. Our sense of community is our number one asset in Maine and we are proud of their efforts in perpetuating it."
According to Maine Campus Compact, the collaboration between UMPI and MMG, "serves as an innovative example of visionary, collaborative problem-solving in business through and in partnership with education." MCC said that the two partners are a model for how business and education leaders can work together in ways that benefit both organizations.
The Maine Campus Compact Annual Awards Ceremony recognizes the outstanding work in public service and civic engagement being done by Maine faculty members, students, campus organizations, community and corporate partners, according to its website. Maine Campus Compact is a coalition of 18 member campuses that work to catalyze and lead a movement to reinvigorate the public purposes and civic mission of higher education. For more information, visit the MCC website at www.mainecompact.org.